The Proliferation of Anti-Dumping and Poor Governance in Emerging Economies: case studies of China and South Africa
This Discussion paper proposes improving anti-dumping's (AD) procedural institutions by enhancing the quality of public governance in the formulation of AD decisions by national authorities. It further examines the AD practices and laws of China and South Africa, arguing that poor governance in emerging economies contributes to their proliἀc use of AD, usually disproportionate to their small share of world imports. These economies already maintain higher tariff barriers than industrial countries, so that without effective steps to ensure better governance to restrain the arbitrary and proliferating use of AD, they may lose out significantly on the gains from the trade liberalization for which they have been striving for decades.


Xuan Gao is a PhD candidate under Professor Asif H. Qureshi's supervision, at the School of Law, University of Manchester. He is also an assistant editor for Manchester Journal of International Economic Law, and for Routledge Publishing Group on the book project "Critical Concepts in International Economic Law". His main field of research interest is International Trade Law and public governance.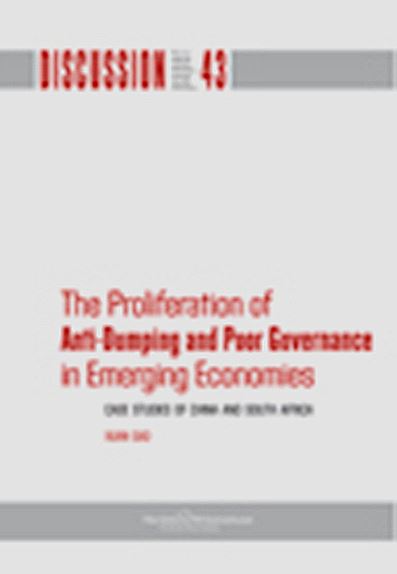 | | |
| --- | --- |
| Författare: | Xuan Gao |
| Artnr: | 9789171066442 |
| Vikt: | 110 gram |
| Leveranstid: | 3-5 dagar |
| ISBN: | 978-91-7106-644-2 |
| Förlag: | Nordiska Afrikainstitutet |
| Bandtyp: | Mjukband |
| Format: | 165 x 242 mm |
| Antal sidor: | 43 |
| Kategorier: | Böcker på främmande språk, Samhälle, politik o debatt |