Persuasive Prevention Towards a Principle for Implementing Article 4(h) and R2P by the African Union
This is a topical and original piece of scholary work that raises important questions and also provides an in-depth analysis of the R2P concept within the African context. I am not aware of an article that has focused so clearly on the African context and provided such an in-depth analysis of this new area of international law.
Dr. Dan Kuwali was a guest researcher at the Nordic Africa Institute in the spring of 2008. He i a Fellow at thr Carr Center for Human Rights Policy, Kennedy School of Government, Harward University. Dr. Kuwali is also the Deputy Director of Legal Services of the Malawi Defence Force.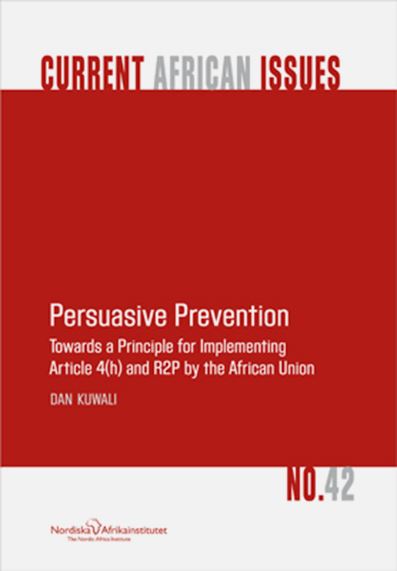 | | |
| --- | --- |
| Författare: | Dan Kuwali |
| Artnr: | 9789171066503 |
| Vikt: | 225 gram |
| Leveranstid: | 3-5 dagar |
| ISBN: | 978-9-17106-650-3 |
| Förlag: | Nordiska Afrikainstitutet |
| Bandtyp: | Mjukband |
| Format: | 165 x 242 mm |
| Antal sidor: | 72 |
| Kategorier: | Böcker på främmande språk, Samhälle, politik o debatt |